Afro-Swing Groove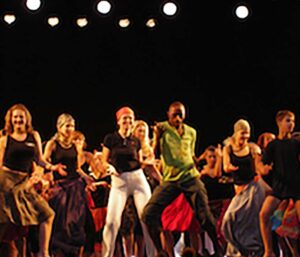 Inspiration is drawn from the South Africa's 1920s township jazz and the jazz music of the 1950s, referred to as « Township Jive » from the black township of Sophiatown in Johannesburg.
With a blend and connection of African dance roots, the Swing dance and Lindy Hop, this dance course will explore the easy flow of dance movements, full of rhythm variations, improvisations, expressive body movement, energy and joy.
Tebby blends swing dance with the groove of South African Township dances, exclusively danced to South African music, like that of Miriam Makeba and Hugh Masekela.
The motto of the course is to: REJOICE IN THE SPIRIT OF TOGETHERNESS!